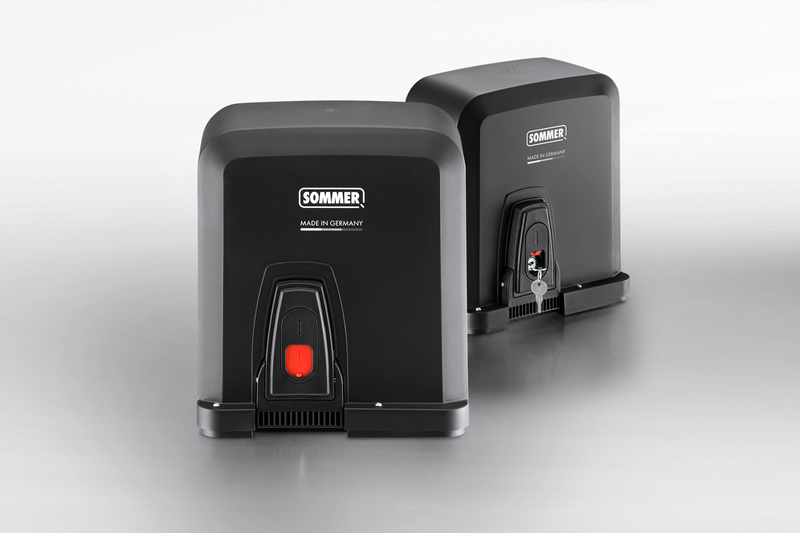 STArter S2 and S2+: The start of something big
You can recognise good sliding gate operators by their gentle and smooth travel dynamics. And really good sliding gate operators also ensure that the gate can be opened without problems at up to -20 °C. Our two new sliding gate operators STArter S2 and STArter S2+ offer all that, and the package is rounded off by a control unit with numerous connection options which is perfect for integration into your Smart Home system.
Durable sliding gate operator
Thanks to optimised speed control, the two sliding gate operators offer extremely quiet movement, which is supplemented by an integrated soft run feature. The latter ensures that the sliding gate is moved particularly gently into the respective end positions. This means not only that you profit from the customary long service life of our SOMMER door and gate operators, but that the wear on the gate itself is significantly lower.
The STArter S2 opens gates of up to 6 metres and 300 kg at 190 mm/s, while its big brother can even handle sliding gates of up to 8 metres and 400 kg at 240 mm/s.
Control unit with a wide range of options
But the real hero of the STArter S2 and STArter S2+ story is the control unit, a completely new development. With numerous connection options, it offers plenty of space for customising the operators; read on to find out more.
Many safety devices and accessories can be connected to the sliding gate operators, expanding their range of functions. And so that the installer can keep track of such a wide range of options, pluggable colour-coded connecting terminals can be used. The control unit is installed horizontally, which means that all connections are easily accessible, and important control elements are directly visible.
Photocells and other safety devices are automatically recognised by the control unit of the STArter S2 and STArter S2+. If required, the gate can even be additionally secured on the outside and inside by integrating a second safety input.
As both operators are compatible with our SOMlink service interface, specialist dealers can adapt all features and parameters to suit individual customer requirements. During and after installation. Read more about the SOMlink in our magazine article. SOMlink: The service interface for specialist retailers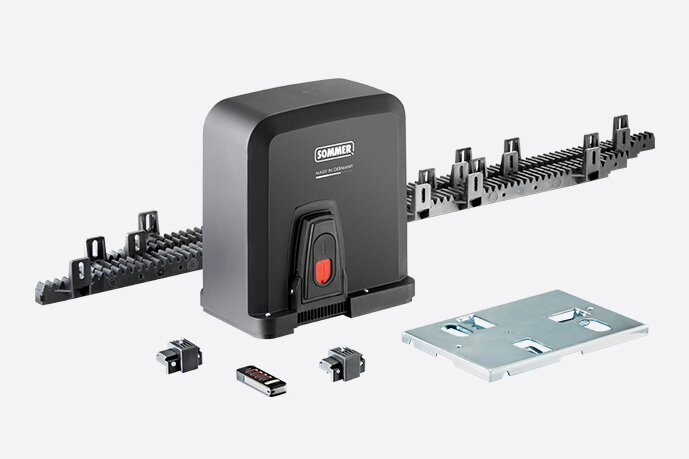 Numerous accessories via plug and play
As you would expect from our door and gate operators, the STArter S2 and the STArter S2+ can be expanded with accessories which can be ordered separately. Thanks to the modular system structure of the two sliding gate operators, accessories can be conveniently connected via plug-and-play. The range of accessories available includes.
Connecting a sliding gate operator to your Smart Home
The many connection options are rounded off by various options for connecting the operators to a Smart Home system:
With our in-house Smart Home solution SOMweb, the STArter S2 and the STArter S2+ can be simply controlled via app or browser from a smartphone, tablet or PC. The SOMweb can also be integrated into Apple's HomeKit and controlled using voice commands via Siri or Google Assistant. Control via Amazon Alexa is possible using the IFTTT service.
The two sliding gate operators can be integrated into the Delta Dore Smart Home system with the X3D module from Delta Dore. Finally, the yard gate can be controlled via the Tydom app.
Communication between sliding gate operator and Smart Home system is via our in-house SOMloq2 radio system. Thanks to its bidirectional 128-bit AES encryption, it not only ensures that the radio signal cannot be intercepted by others, but, in combination with a handheld transmitter from SOMMER, also gives you access to several additional functions:
Hop function: Increases the range of your handheld transmitter
Status query of door: Feedback via vibration tells you if the sliding gate operator is opened or closed
Auto-repeat function: The radio signal is repeated continuously, allowing convenient opening of the sliding gate as you drive up to it
All these points make the intelligent sliding gate operators in the STArter S2 series the ideal operators for small to medium-sized sliding gates. Their intelligent control unit offers a wide range of connection options, and in addition to convenient operation via radio control system, they can be integrated into the Smart Home systems SOMweb and Delta Dore. Sliding gate operator STArter S2+ provides an added advantage when it comes to gate weight, movement range and speed.
Installation and initial operation of the sliding gate operators
The video shows how installation and initial operation of the sliding gate operators STArter S2 and STArter S2+ work. You can find more videos on our YouTube channel.
The products named in this article
Sliding gate operator STArter S2 und STArter S2+