The radio receiver for greater range
The bidirectional 4-channel radio receiver module SOMup4 S2 replaces the SOMup4. The option of connecting an external antenna allows you to increase the range significantly with the receiver installed in a metal post or in shielding housing - in particular in combination with the SOMloq2 hop function.
With the SOMup4 S2, due to the optional connection of an external antenna, operators and control units still working with the # 7000VXXX radio receiver can be converted to the SOMloq2 radio system.
All operator sets have been converted to the new SOMup4 S2. The already existing antenna for 868.8 MHz (Item Number 7004VXXX) can be used. In order to use the external antenna, the jumper must be removed or moved and the antenna plugged in as indicated by the symbols on the housing: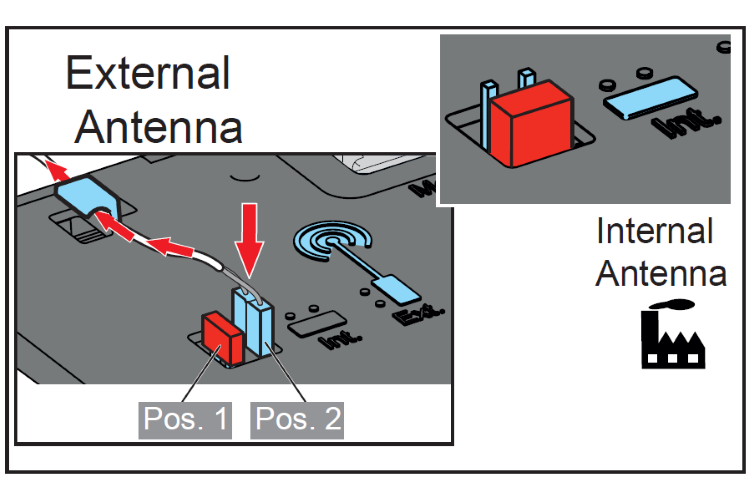 Good to know
The SOMup4 S2 is equipped with an internal antenna as well as a connection for an external antenna. It is necessary to observe the correct mounting position here
Optional feedback via handheld transmitter when the sent command has been processed by the receiver is possible
The memory offers space for up to 40 radio commands
There is a slot for a memory extension with additional capacity for 450 radio commands
It is connected via a 20-pin contact strip
Initial operation in impulse mode (jog): Relay activated as long as radio signal is present
Defined ON / OFF: command for defined switch-on and command for defined switch-off
Power supply: DC 5 V or DC 8–18 V
Temperature range: −25 °C to +65 °C
Dimensions: 60 × 57 × 13 mm
Product