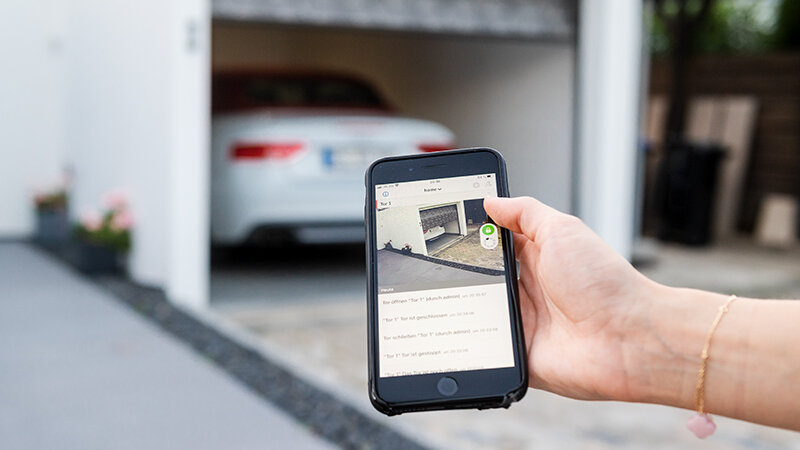 Smart Home solutions for garage door operators from SOMMER
Smart Home connects state-of-the-art household electronics to allow remote control via the Internet. You can network various devices and control them via your smartphone. You can also use a tablet or PC. If you have a garage for your vehicle, you can install an electronic garage door operator.
When you drive up in your car, you use an app for door operators to open the garage door. Once you have parked your vehicle in the garage, you can close the door again in the same way. Far more convenient than having to open and close the garage door manually. No effort required, and in bad weather, no need to get out of your vehicle. A further advantage is that you can check via the app at any time whether your garage door really is securely closed.
How can I control my garage door via Smart Home?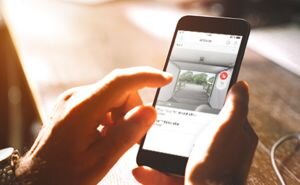 The intelligent SOMweb solution for garage door operators consists of a control unit which you need to connect to your garage door operator. The control unit connects to an app, which you can install on your smartphone or tablet free of charge.
Alternatively, you can control the door operator via your PC using a web browser. To open or close the garage door, open the app and activate the corresponding control unit. You can open the garage door while you are still in the hall, getting ready to leave, or as you drive up to the garage.
A Smart Home solution for garage door operators is also suitable for commercial applications. You can control up to ten gate or door operators and control access conveniently via user management.
Security of the data is ensured
The integrated server stores all data on the SOMweb. No user data are stored on external servers, which are a potential target for hackers due to their high data volumes. This means your data are optimally protected against hackers. Communication between SOMweb and operator is via SOMloq2 radio control system with 128-bit AES encryption. Push messages on garage door movements and the optional video function ensure even greater security outside the visible range.
Integrated server
All data are stored on the SOMweb and not on external servers.
Video function
Optional video function via bookable video plug-in.
Garage door does not necessarily have to be replaced
You can include the Smart Home garage door operator when you are planning to build a new garage. Alternatively, you can equip an already existing garage door with the state-of-the-art garage door operator. Many garage doors are suitable for conversion in this way. More than 5,000 door-operator combinations with SOMMER garage door operators and doors from well-known manufacturers are certified. You can find the current reference list under Certifications.
Voice control via Siri, Google Assistant or Amazon Alexa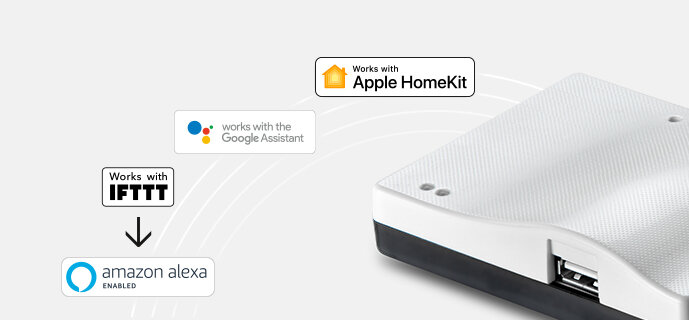 It is not only possible to control the SOMweb app for door operators by pressing the buttons on your smartphone. You can also use voice commands to open or close the door. It doesn't matter which smartphone you use. SOMweb is compatible with Apple HomeKit (Siri), Google Assistant and Amazon Alexa via IFTTT.
Summary: Upgrade your garage door operator to a state-of-the-art system
You can integrate a state-of-the-art garage door operator from SOMMER into an already existing garage door. Most garage doors are suitable for conversion. It doesn't matter whether you have been opening your garage door manually or using a remote control up to now. Conversion allows you to issue the command to open your garage door even before you reach the property. You can see at any time whether your garage door is open or closed, an important contribution to ensuring the security of your home. A Smart Home garage door operator is also very convenient.
Smart Home solution SOMweb for garage door operators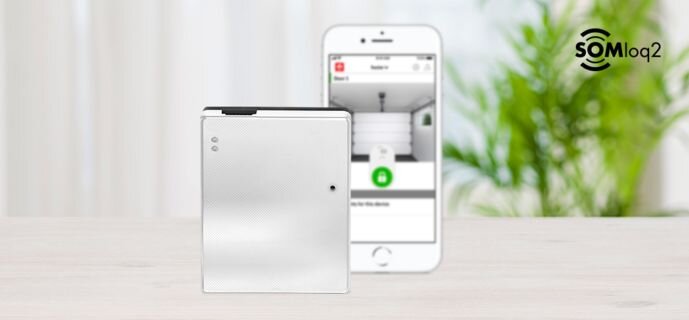 The secure SOMweb Smart Home solution allows you to control garage door operators, underground garage operators, barrier systems and roller door control units via a smartphone app or a web browser. The data is safe, as it is not saved on external servers, but literally remains at home. Without the need for additional cabling or additional sensors, installation of the solution is very simple.
Modules for connection to existing Smart Home systems
With the Delta Dore and KNX control modules, you can integrate existing gate and door operators from SOMMER into your Smart Home system. The Delta Dore X3D module is used to integrate the SOMMER base+, SOMMER pro+, SOMMER tiga and SOMMER tiga+ garage door operators into the Smart Home system from Delta Dore. The gate and door operator control module KNX A3-B2 in the installation housing has three outputs for gate/door control and two binary inputs.